We have a small number of beautiful kittens available at the moment, in various ages and colours.
Sire: Glenferry Warlock Magic
Dam: Deanicko Meiko
Born: 26th June, 2003
Only 3 Siamese kittens left!
2 Seal Tabby Point Males
1 Chocolate Tabby Point Male
Sire: Glenferry Warlock Magic
Dam: Mayteako Lady In Black
Born: August 5th, 2003
Three male Orientals
1 Blue
1 Black
1 Black Smoke
We also have a 8 month old Seal Tabby Point Siamese female
available to a good home only.
Please contact us for further information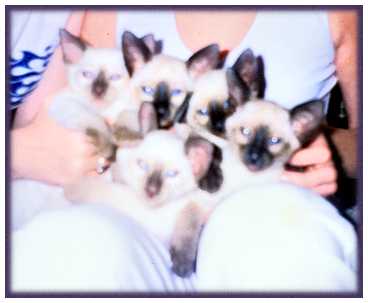 Kittens usually available.
We sell for pet or show. We only sell for breeding after consultation with prospective buyers.
All kittens leave us at between 12 and 14 weeks of age.
They have two vaccinations and are wormed and micro-chipped. They also have a full health check.
Kittens are available for viewing from 6 weeks of age.
A partly refundable deposit is required on selection of your kitten.
You are welcome to visit your kitten after you have chosen the one that is right for you.
Below are some kittens we have bred.
Daddy Themistocles doing the cat equivalent of changing the nappies!

I am sooo cute!

Deanicko Lancelot
and
Deanicko Travis
We both come back to visit sometimes!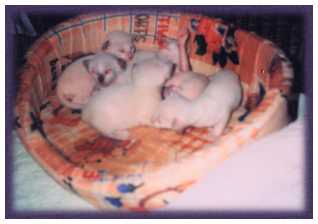 A basketful of Deanicko babies